WEBINAR: Open-Book EMS Costing for OEM Quote Pricing | Webinar | December 5, 2017
Mark Zetter
Founder & CEO - VentureOutsource.com
Free
Fill in form to request this content.
Suggest this to a friend » Overview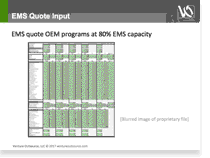 This event is for electronics OEM professionals working in OEM companies.
This entry-level event is for OEM professionals responsible for EMS provider program costs and interested in how EMS providers determine OEM program quote pricing.
Electronics product cost is influenced by various drivers, related to a specific factory and to the combination of products it produces. Factory overhead and equipment utilization fluctuate and so do costs. It's easy for EMS providers to overestimate costs, especially when extra contingencies are added resulting in higher than expected quotes presented to OEMs for the cost of manufacture. Read how manufacturers can drive outsourcing cost reductions using our manufacturing costing modelers.
Determining accurate or fair product costing for SMT, printed circuit board assembly (PCBA) and/or assembled electronic products, EMS workforce labor (direct and indirect), systems testing, etc...is easy when manufactured or assembled by well managed, cost efficient, productive and competent EMS providers in a specified geographic region of the world. But EMS is a business model filled with uncertainty. Many attendees of this event also purchase our 'Handbook of EMS Manufacturing Multi-National Pricing Considerations & Drivers' here.
OEM target audience: Electronic OEM individuals, managers and executives working in OEM hardware companies responsible for proposals, quotes, costing and cost management, vendor and supplier management, purchasing, planning, strategic sourcing, materials and supply chain management, manufacturing operations, finance, corporate strategy and related.
Please fill out the above form to request OnDemand content.
Materials available for this event
Event PDF Slide Deck
We manage release of these event materials exclusively for electronic OEM professionals. Our slide decks often contain links to supportive/helpful content and materials for the event.
Thank you,
The Team at VentureOutsource.com
Please fill out the above form to request OnDemand content.
Suggest this to a friend » Speakers
Mark Zetter

Founder & CEO - VentureOutsource.com

Mark Zetter is a contract electronics operations executive with a pragmatism and view of reality shaping OEM risk decisioning concerning sourcing of contract electronics solutions and finance. Mark's expertise is backed by a solid understanding of EMS business models, experience working with many of the top 50 EMS providers worldwide, and hundreds of smaller providers over the years, evaluating EMS common business v. proven best practices.

Sara Roberts

Director, Educational Programs - VentureOutsource.com

Sara has 20+ years in corporate America assisting in the planning and marketing of sales events and corporate training programs, in addition to many other roles. Contact me if you want to speak in one of our events to help our event attendees save time, reduce costs, and become more informed as they advance their careers.
View content!
Become a Sponsor