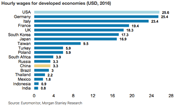 Some shifts are taking place in manufacturers relocating operations and supply chains to less expensive countries even thought its costly and risky when moving production.
Electronics OEMs and contract EMS manufacturing PCB assembly providers are impacted by tariffs, the rising costs of materials, land and labor combined with more strict environmental regulations and compliance for hardware manufacturing.
READ
Manufacturing v. minimum wage labor rates for select nations in Asia (USD/hour)
With the ongoing trade dispute at the time of publishing this article, other Asian economies could benefit at China's expense. But China's scale means it is unlikely to be displaced as an important player in the global supply chain. (Read: Mexico hourly manufacturing rate v China)
ACCESS ARTICLE: Full content is available to logged in electronics OEM site users only. Registration is free. If you are an electronics OEM professional working in an electronics OEM company please
Register
or
Log In.
Get a list of EMS/CM providers matching your program needs (Its free)
Venture Outsource has the largest, global database of contract electronics capabilities. This free service is for electronic OEM professionals wanting to find contract electronic service providers matching your program requirements. Speak with a Provider Advisor. Advisors will give you detailed information on providers, plus intelligence on these companies, emerging trends and best practices.