Early 2018, Vietnamese Prime Minister Nguyen Xuan Phuc said he wants "stronger commitments to restructuring public investment and state-owned enterprises". Vietnamese Ministry of Finance and other Vietnamese organizations in both private and public sectors are hopeful privatization of SOEs will help Vietnam obtain much needed capital from investors as Vietnam's capability to digest large investments comes into question, primarily concerning more stringent conditions foro companies to IPO and become public, company governance and disclosures, and penalties for manipulation and insider trading, among other questions and concerns.
RELATED
Legitimate concerns also remain about Vietnam's high public debt which was as high as 64 percent. In trying to attract investors Vietnam government is considering non-voting depository receipts for investors but this can erode confidence in the object of privatizing SOEs. A lot of analysts say that years of mismanagement and pervasive corruption have created a mess for financials of many SOEs in Vietnam.
Vietnam political system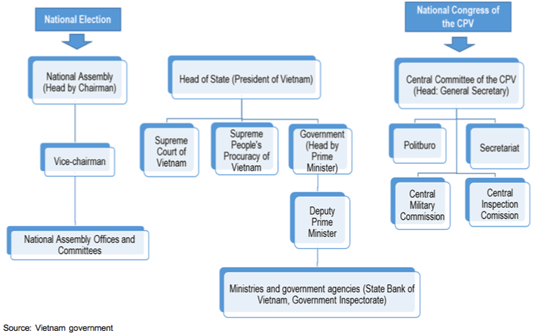 Get a list of EMS/CM providers matching your program needs (Its free)
Venture Outsource has the largest, global database of contract electronics capabilities. This free service is for electronic OEM professionals wanting to find contract electronic service providers matching your program requirements. Speak with a Provider Advisor. Advisors will give you detailed information on providers, plus intelligence on these companies, emerging trends and best practices.