China's hourly manufacturing labor rates are far below rates in Japan ($27.80) and Taiwan ($8.68) but roughly on par with nations like the Philippines ($1.68). China manufacturing compensation costs slightly higher than those in India. Many EMS / ODM companies in China, especially those making PCs, are moving operations inland.
A 2011 report published by the U.S. Bureau of Labor Statistics (BLS) takes a thorough look at hourly manufacturing labor rates in China. While there has been a lot of demand for stats on China's manufacturing sector, particularly comparable labor cost measurements, compiling accurate data has proven challenging for most analysts given China's non-traditional practice of gathering and reporting the data is not typically recognized by research and analyst peers in the international community.
Given this difficulty, it can take years to compile a reasonably accurate profile for hourly labor rate information on China's manufacturing sector.
Hence, this report represents findings up to 2008 and documents and analyzes changes in China's manufacturing employment and hourly labor compensation costs on the basis of official data through 2008 and anecdotal reports from China since then whereas China's manufacturing employment continued to grow from a total of 97.91 million at the end of 2007 to 99.01 million at year end 2008. (OEM Exclusive: Request list of EMS/ODM providers anywhere in China or the greater Asia region)
Though manufacturing workers in China are earning more than ever before, average hourly compensation costs were only $1.36 in 2008.
China's hourly compensation costs remain far below those of many of its East Asian neighbors like Japan ($27.80) and Taiwan ($8.68), but are roughly on par with those of others like the Philippines ($1.68). (Read: Global manufacturing labor rates, trends and competitiveness)
Many electronics OEM executives regularly look to their outsourcing partners with electronics manufacturing services (EMS) operations in China, such as Foxconn, to help lower the costs associated with producing their products. (VIDEO: Foxconn factory workers talk about factory life in documentary.  See also: Top 10 EMS / ODM companies, rankings, ratings.)
Find electronic prototyping services
In your search results you can further target your options by selecting End Market, then select Go
In reading the information that follows, its important to note labor is only a small part of the overall outsourcing manufacturing cost picture when it comes to EMS and low cost destinations. (See: Outsourcing cost reductions and benefits – labor cost…columns one through seven)
Furthermore, savings achieved by lower labor costs are sometimes offset by higher shipping and distribution costs depending on final product destination and other factors.
Available data sources
China's published statistics on employment and wages in manufacturing do not meet international standards. In fact, no source of frequently published, official data provides nationwide employment and labor compensation statistics on Chinese manufacturing claims the BLS report.
To obtain reliable, annually updated, national employment and earnings numbers for China, data must be drawn from two sources. Data for formal, urban enterprises are collected and reported by the Ministry of Human Resources and Social Security (formerly called the Ministry of Labor and Social Security), while data for other manufacturing units – that is, town and village enterprise (TVE) data – are compiled and reported by the Ministry of Agriculture.
Meanwhile, almost 66% of China's manufacturing workers are now employed in TVEs, while just over 33% work in urban units.
The problem is, only a small number of labor-related statistics are published describing China's large network of factories and small manufacturing units besides urban units.
The majority of China's manufacturing workers are employed in TVEs, yet each year only two official relevant figures are published about them: the total number of manufacturing employees who work in TVEs and the total annual wage bill for those manufacturing workers.
Calculating (rising) compensation costs
Manufacturing employment is of course an important factor in understanding China's international trade competitiveness, but the report reminds readers it is critical to couple this information with labor costs. (Read: China's Anti-Monopoly Law takes hold of western companies)
The published data on average weekly hours worked in China's urban manufacturing sector at the beginning of November each year show a decrease from 50.4 hours per week in 2006 to 47.9 hours per week in 2008.
China state government stats on manufacturing employment and wages do not meet international standards.
Meanwhile, hourly compensation growth rates in China's manufacturing sector have been rising steadily, and comparatively quickly.
Consider that, from 2002 to 2008, hourly labor costs in the manufacturing sector in the United States increased by 19%, while the corresponding figure in China grew 100%.
Three reasons for rising China compensation costs
One reason for rising manufacturing labor compensation costs in China the report highlights is the rising literacy, numeracy, and educational attainment of even unskilled and semi-skilled Chinese employees from rural as well as urban areas, and even greater increases in the human capital embodied in skilled workers and high-talent employees.
The increased education and skill level of Chinese workers has helped to increase labor productivity in China's secondary industry, especially in manufacturing.
Labor productivity in China's secondary industry (which the report points out is primarily manufacturing, but also includes construction, mining, and utilities) has risen about 10% per year since 1991 (4% to 26% each year from 1991 to 2008), due to technological progress, increased capital investment, and rising human capital.
Another reason for the surging cost of labor in Chinese manufacturing today is a new employment contract law (also called a labor contract law) that came into effect in 2008.
The law gives workers the right to have a signed labor contract, protects the working conditions and timely payment of wages to employees, limits overtime work, requires payments to compulsory social insurance schemes for employees, and makes it much more difficult to fire workers. (Read: The effects of China's growing labor unions on your company)
This law, along with minimum wage laws the report states, appears to be strengthening the bargaining power of employees and contributing to wage increases, especially in foreign-owned factories where China's authorities recently are tolerating strikes by workers.
It is likely that the labor contract law will also cause the amount of social insurance paid by employers relative to wages to increase, but BLS has been unable to locate recent national-level data to quantify the effects of this law on non-wage compensation. (See also: Understanding working with Chinese state-owned enterprises)
A third reason for rising compensation costs in China is the growing shortage of workers.
Find electronics ODM services
Shortage of Chinese workers
In recent decades, employers became accustomed to having a seemingly unlimited supply of very cheap labor the report states, and being able to insist on certain qualities in their workers.
Through the turn of the millennium, China had an ample reserve supply of laborers, partly because young adult farmers were moving out of agriculture into industry for the first time.
Reports of emerging shortages of manufacturing workers began in the Pearl River Delta of Guangdong Province in about 2003 and have since spread. (Read: China's labor source and the impact of one billion pigs)
Meanwhile, the bulk of China's population (73%) is in the cohorts considered to be of working age – that is, the cohorts with people at least 15 years of age but younger than 65 – providing a massive pool of potential employees and talent.
Chart 1
Population of China, by sex and by age group, in millions, 2010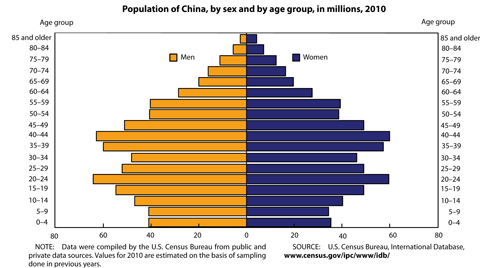 As of the end of 2008, China's employed population was reported to be 775 million, constituting 58% of the country's total population. Of the population ages 15 to 64, 77% was employed, which is high from an international comparative perspective.
Meanwhile, youth population ages 0 to 14 has shrunk to an unusually small proportion of the population for a developing country.
Indeed, a key determinant of China's paradoxically tightening labor market is low fertility.
China's family planning and one-child policies have significantly reduced fertility and kept it low during most years since the 1970s and today manufacturing employers are reporting that they cannot get the rural migrant workers to return to urban units, and are having difficulty luring new employees as well.
In response to the current labor shortages, manufacturing employers are raising wages, improving working conditions, hiring workers in a wider age range, increasing promised benefits, and generally doing what they can to attract enough workers. The tight labor market is therefore contributing to increasing labor costs in manufacturing.
"With the concentration of electronics supply chain and manufacturing activity along the eastern coast of China, demand for experienced and skilled workers has been unusually high in these areas," says Michael Palma, research manager at market research firm IDC. (Get in touch with Michael and other thought leaders in VO GlobalNet)
Palma went on to say, "to avoid paying higher labor rates due to a scarcity of workers, many EMS / ODM (original design manufacturers), especially those involved in the PC space, are moving operations inland to tap new sources of labor." (See supporting IHS iSuppli release: 2011 Forecasts global EMS / ODM growth slowing with China no longer the exception)
Urban v. town and village enterprises (TVE) compensation units
A continuing feature of manufacturing labor compensation in China is the large and growing differential between average hourly compensation costs for employees in urban units and those for employees in TVEs.
By 2002, hourly labor compensation in urban units was 2.3 times the compensation in TVEs; as of 2008, even after the removal of the self-employed (a group with low wages overall) from the TVE series, hourly labor compensation in urban units had jumped to 2.9 times that in TVEs.
Chart 2
Average hourly compensation costs in urban units and TVEs (town and village enterprises) in manufacturing, in U.S. dollars, 2002 to 2008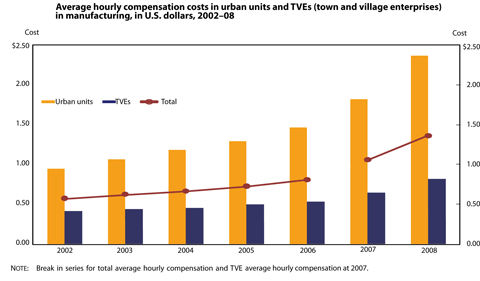 One key reason for this increasing disparity the report states is restrictions on geographical labor mobility.
It remains difficult for rural laborers to move from the villages to the cities and reestablish their families and households there, a factor contributing to perceived labor shortages in the urban areas.
Therefore, labor shortages are more acute in the cities, driving up wages.
Villages throughout China report that most of the young adults who want to migrate out of the village for non-agricultural work have already done so.
Though China has hundreds of millions of workers, they are now becoming more demanding about what jobs they pursue and where.
If potential labor migrants are not impressed with what they have experienced or what they hear about pay and working conditions in the urban factories, they may be unwilling to migrate over a long distance to take up such jobs.
China's official statistical publications report the average annual earnings per employee in urban units in each subsector of manufacturing. There was a surge in the average wage in every urban manufacturing subsector in 2007 and 2008, as shown in Table 1.
Table 1
Earnings in urban manufacturing units in China, by subsection, 2002 to 2008
China's overall manufacturing labor compensation costs have risen every year, affecting China's global competitiveness in manufacturing.
Hourly manufacturing compensation costs in China are increasing at an even faster rate in U.S. dollars than in Chinese yuan. Hourly compensation costs expressed in a domestic currency (in this case, yuan) can show trends in labor costs within a country, but they do not allow for comparisons across countries.
Find plastic molding services
China in the global economy
Even as China ascends as a major economic player in the global economy, its position in the international landscape of labor costs has not changed dramatically.
As measured in U.S. dollars, Chinese hourly labor compensation costs in manufacturing were roughly 4% of those in the United States and about 3% of those in the Euro Area in 2008.
Get a list of EMS/CM providers matching your program needs (Its free)
Venture Outsource has the largest, global database of contract electronics capabilities. This free service is for electronic OEM professionals wanting to find contract electronic service providers matching your program requirements. Speak with a Provider Advisor. Advisors will give you detailed information on providers, plus intelligence on these companies, emerging trends and best practices.