In this exclusive interview which took place the first-half of August 2007, Thomas J. Donohue, President and CEO of the U.S. Chamber of Commerce shares insight with VentureOutsource.com.
Read what Mr. Donohue says about the loss of U.S. jobs; America as a competitive power; global economics of contract manufacturing outsourcing and offshoring, foreign manufacturing productivity and product quality serving global markets, and more.
Transcripts from that discussion follow.
VentureOutsource.com: The United States Chamber of Commerce interacts regularly with leaders of the nation's largest associations. Looking at the product manufacturing sector in particular, can you please share your thoughts on what some industry associations are doing to effectively communicate some of the advantages of outsourcing and offshoring for our society and how U.S. companies are looking to find ways to become more competitive and are able to do so on an international level?
Donohue: By taking advantage of greater access in new markets, U.S. companies, particularly manufacturers, have been able to strengthen their bottom lines; reduce consumer prices, focus on more profitable operations, and create new and better jobs here at home.
The Chamber issued two landmark reports on the topics of outsourcing and U.S. competitiveness. Our 2004 report titled "Jobs, Trade, Sourcing, and the Future of the American Workforce," found little hard data to support fears about outsourcing and claims of an impending exodus of U.S. jobs overseas. Our 2006 follow-up report, "Global Engagement: How Americans Can Win and Prosper in the Worldwide Economy", found that overwhelmingly, Americans benefit from the nation's openness to trade; foreign investment, immigrants, and international visitors.
The 2004 report also found U.S. exports directly supported one in every five manufacturing jobs here at home. The U.S. manufacturing sector has been sourcing around the world for over 30 years, during which time our manufacturing output has more than doubled. Some manufacturing workers have lost jobs due to technological advances as well as changes driven by outsourcing and the just-in-time production process. We have supported strong retraining programs to help these workers and will continue to do so.
Thomas J. Donohue
President and CEO
United States Chamber of Commerce
The bottom line: outsourcing has made the manufacturing process more efficient and productive, which has helped consumers and our overall economy. Outsourcing allows manufacturers to buy components from a vast array of suppliers, lowering costs for the manufacturer who is able to pass on the savings to consumers.
Outsourcing has also made us work smarter and made workers able to take advantage of one of the United States greatest assets – the spirit of innovation. The changes in the manufacturing sector have resulted in some of our best workers improving their workforce skills and in many cases, transitioning to careers in high-technology fields. With the help of the Federal Trade Adjustment Assistance programs, many of these workers have been retrained and are now working in high-tech industries.
Find electronics design services
In your search results, you can further add additional Industries, Services, Geographies then select Go.
For all of these reasons, the Chamber strongly believes manufacturing and service companies alike should have the freedom and flexibility to source and trade across our country-and around the world. We are not in the business of telling companies that they should outsource, but we are fighting to preserve their right to do so. Flexibility is one of the American economy's greatest strengths, and we are working hard before governments and regulators everywhere to preserve it.
SEE ALSO
Outsourcing Handbook for Industrial, Aerospace, Automotive, Military, Medical Electronics
RFQ Best practices when sourcing EMS manufacturing services
VentureOutsource.com: Outsourcing and offshore product manufacturing is not always part of the solution for every company (U.S.-based or not). Meanwhile, it's probably safe to say companies have been outsourcing at least portions of their product supply chains since the beginning of commerce. What have you witnessed with regards to outsourcing and offshore manufacturing as it relates to improving or hampering international trade; the quality of goods and services, and the economic standing of individuals; communities, and organizations across various regions of the globe?
Donohue: Overseas, I've seen an unprecedented number of American companies set up shop in the European Union – not only for the purpose of sourcing but to position themselves to sell locally from within one of the world's richest markets. In India, I've seen highly-educated, well-trained workers manning call centers and performing office tasks for clients all over the world, including some U.S. clients. And you know what? Virtually all of the equipment they use is American-made. In fact, everywhere you look, you can see a major U.S. presence in terms of our products; services, expertise and technologies.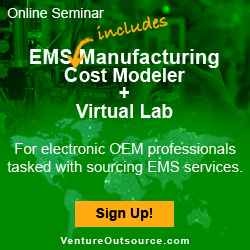 The point I'm making is that trade is a two-way street. Critics of outsourcing often overlook the benefits, such as the creation of jobs by foreign firms that open operations in the United States. No other society in the world has benefited more from the migration of money, people, and jobs than the United States.
The fact of the matter is we insource at least $50 billion more in service work than we outsource. The jobs we gain in the U.S. far outnumber the amount of jobs we outsource. Direct foreign investment supports more than five million jobs in the United States and tens of millions more indirectly. Even with significant investments overseas, more than 70% of American business investment (including employment and capital expenditures) occurs right here in the United States-not in other countries.
VentureOutsource.com: Several decades ago, foreign governments sought help from the US on how to become competitive in their regional markets and abroad. Many of these governments took notes carefully and have since become competitive on a global scale – often resulting in the loss of US jobs. What are your thoughts on the loss of U.S. jobs related to outsourcing or offshoring? What can companies do to ensure some jobs remain on US soil?

Donohue: I travel the world as a representative for the U.S. Chamber's three million business members and everywhere I go, I see foreign countries who have stepped up their games in a significant way. We shouldn't be surprised — for the last 60 years we've gone around the world telling other countries how to be successful. Now they're finally doing it and we've got real competition!
To ensure that our economy continues to generate plenty of American jobs, we have to get rid of policies that foster an unfriendly business environment and undercut our own competitiveness. We have to bring under control frivolous class action and securities lawsuits that are sucking the vitality out of our companies. We must ensure our businesses have access to reliable and affordable energy supplies, including upgrading our energy infrastructure and expanding our resources. We also must make serious improvements in the education and training of our workforce. The list goes on.
SEE ALSO
How to reduce costs from your EMS manufacturing programs
EMS Manufacturer internal cost vs OEM quoted fees vs OEM target price
Find EMS manufacturing providers
In your search results, you can further add additional Industries, Services, Geographies then select Go.
VentureOutsource.com: What are your thoughts on fair and free trade and the role technology has played in manufacturing-based achievements of U.S.-based businesses and their counterparts in other developed countries, and in developing countries?

Donohue: The global gains that can be achieved from a free, fair, and open trading system are well documented. The University of Michigan estimates a one-third cut to international trade barriers could raise the income of the average American family by an additional $2,500 a year.
One of the benefits that are not as well publicized is the fact U.S. factories and facilities often contribute to raising local labor and environmental standards, particularly in developing countries. Workers routinely make more than they ever had the opportunity to earn in the past, leading to more productivity for the companies and better lives for the citizens of that country. Trade is the 21st century's most powerful development tool.
The Chamber's TradeRoots [grassroots advocacy program] puts out several publications that highlight American small businesses that have overcome the challenges and enjoyed the benefits of trade. These "Faces of Trade" publications feature companies ranging from a synthetic turf manufacturer to a wholesaler of buttons and trim products. It really runs the whole gamut and they've all got inspiring stories to tell.
As for technology — information, ideas and people are moving at speeds never before thought imaginable. As a result, the global market place has become a much tighter-knit community and the world has grown smaller. You can send an x-ray to a radiologist or your tax return information to an accountant in India as quickly as you can to a radiologist or tax accountant in Los Angeles. Technology is not going anywhere and will continue to make things easier, more efficient, and more affordable for companies to source offshore to the benefit of businesses and consumers.
Get a list of EMS/CM providers matching your program needs (Its free)
Venture Outsource has the largest, global database of contract electronics capabilities. This free service is for electronic OEM professionals wanting to find contract electronic service providers matching your program requirements. Speak with a Provider Advisor. Advisors will give you detailed information on providers, plus intelligence on these companies, emerging trends and best practices.